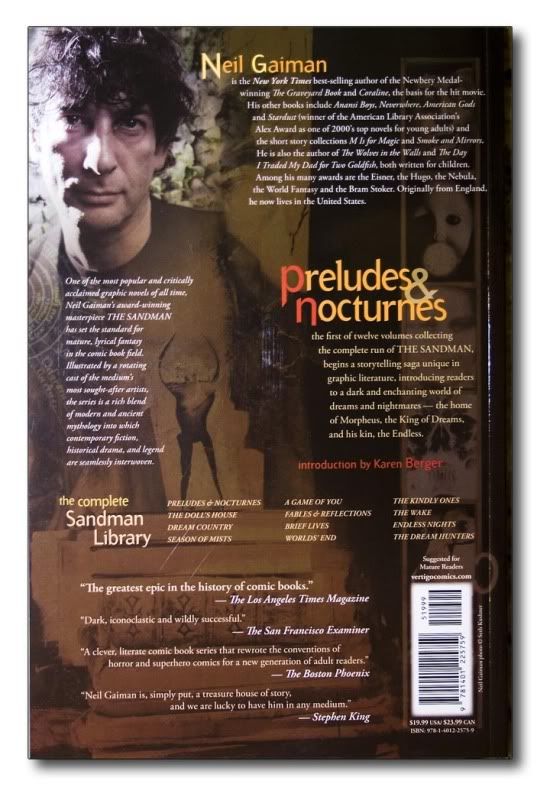 It was a year ago when I received a request from DC/Vertigo comics Executive Editor
Karen Berger
to use my portrait of author
Neil Gaiman
for the new tradepaperback editions of all 12 volumes of the acclaimed
Sandman
series. I was very excited by the request.
Sandman
was a series I began reading when I was in college, and when I look back on my own work from that time, the influence it had on me is unmistakable. Also, while I never fell away from reading comics, it helped to make me excited about them again. I think the book had that effect on a lot of people.
The portrait of Neil was taken back in April '08, during an intermission of his reading for the
CBLDF
at NY Comic-Con. I only had five minutes. I'd long wanted to meet Neil, but given the time constrictions, I focused on getting the shot, hoping I'd get another chance to chat with him some time in the future.
The shoot took place "backstage" in the bowels of the Javits Center. The photo seen here was originally shot in front of a gray concrete wall - the only available option. It wasn't until over a year later when I found a background which felt right to me, and once layered and merged, I was finally able to deem it "finished."
I was told by Karen, "Neil loves the photo, but doesn't remember what it was taken for." That was no surprise to me, given the "environment" was changed.
In any case, I'm very proud to have my work associated with the great Neil Gaiman and his creation,
The Sandman.