I recently collaborated with poet Caits Meissner on two projects. The first of them was for the cover and packaging of her new album, The Wolf & Me. See info below.
For the photo, Caits wanted to somehow combine herself with the idea of the wolf. A few different ideas were bandied about, but in the end Caits, a graphic designer herself, went with the treatment seen below on my portrait of her.
Our other collaboration was for my project, CulturePOP, which will be formally announced later this week.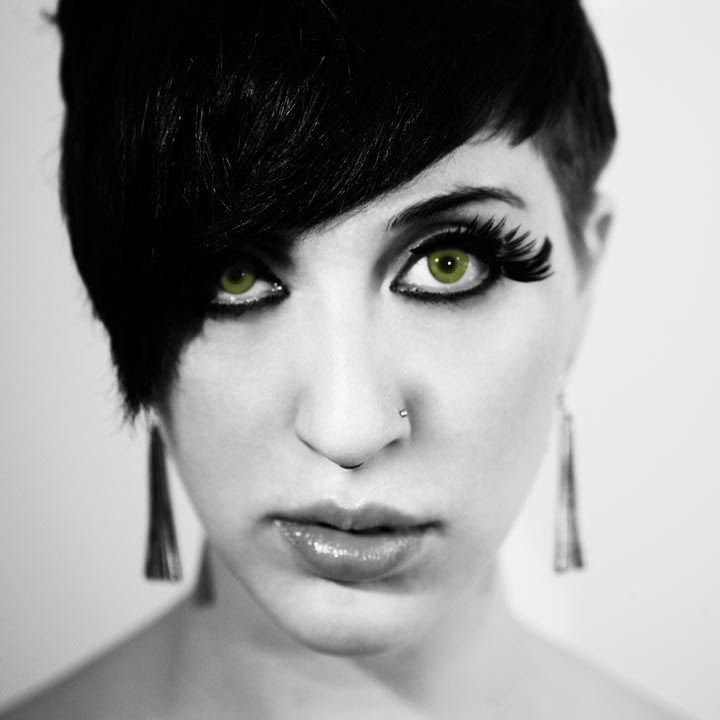 Poet Caits Meissner releases her second EP,
The Wolf & Me
, May 1, 2010

Executive Produced by Just Plain Ant; featuring Maya Azucena, Jesse Boykins III, Dunce Apprentice and Broke MC; with production by Blu, Cazeaux OSLO, Just Plain Ant, Bisco Smith, Cave and The Aftermath.
Caits Meissner, well-known for her writing in respected poetry circles, and work as an educator/community organizer in youth circles, now steps out with a fantastic music project. Embedded in and influenced by the experimental hip hop community, Caits' songs are word-driven vignettes delving deep into the heart of human experience: loneliness, inspiration, love and loss set over visually lush landscapes from current hip hop/electronic producers.
In regards to her past work, Erykah Badu calls her "fresh, honest and loving… a delicate heart like mine." Doodlebug of Digable Planets describes her as "melodic words of wisdom… streetjazzoetry." This round, surprising her fans by singing at times in her honest and edgy tone, Caits reveals the soulful songwriter beneath her poems. Something precious, her words beat like a full heart without false bravado, a seeking for something beyond, a prayer. The Wolf & Me is something that will linger in your soul.
The Wolf & Me is a multi-platform project, inspired by classic elements of the vinyl era, which includes a PDF download of the lyrics designed by Caits (who also holds a BFA in Graphic Design from Pratt Institute), art directed by designer Tishon Woolcock and shot by renowned photographer Seth Kushner. London-based poet Warsan Shire contributes her words, reviving the lost of art of liner notes. According to Caits, The Wolf & Me aims to be "a multi-sensory journey, the kind of album you listen to under headphones, in the dark hours of the early morning." She hopes the words bring you alive.
Caits has a substantial background in performance poetry but recently transitioned into working with music, most notably with German producers Comfort Fit and Portformat on the Tokyo Dawn record label. Originally from Albany, NY, she has been Brooklyn-based for the past eight years. Caits studied in Africa under Pulitzer Prize winner Yusef Komunyakaa, and building off such legacies as Gil Scott-Heron, works to create a musical experience rooted in storytelling.
Download the new single, "Blackest Blood" from the forthcoming project at
www.thewolfandme.com or www.caitsmeissner.com