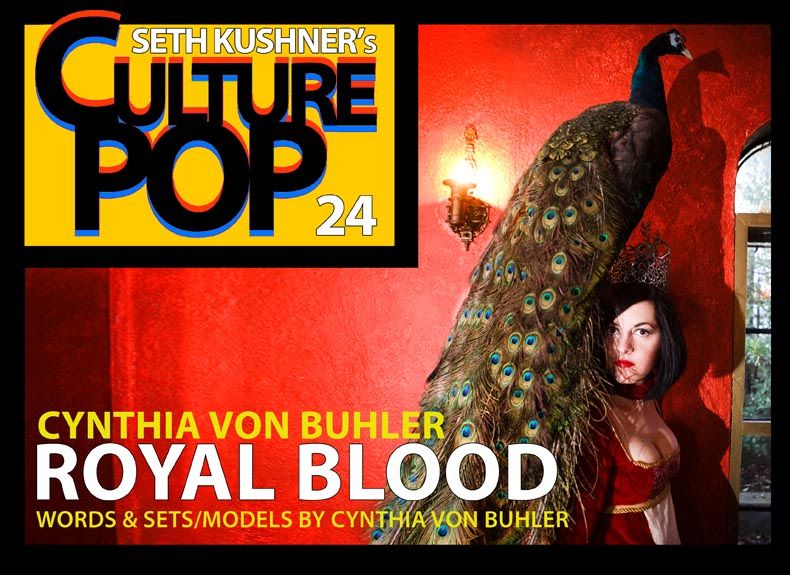 This week's new installment of CulturePOP Photocomix Profiles of Real-Life Characters is the 24th and the season-2 finale. To mark the occasion, I present my profile on artist Cynthia Von Buhler.
Cynthia and I started work on the piece last fall. We discussed concepts and she soon sent me a first draft of a script, which is nearly identical to the final version. I read through it and learned about her history and the history of her family and was floored by the scope and with how well she broke down the beats of the story by page and text box. It gave me to perfect map for planning out the profile.
But, how the hell was I going to set scenes taking place during Cynthia's childhood and during the 1920s and 1930s? Cast actors and green screen in virtual sets? No, Cynthia had a far more ambitious idea. She would build miniature dollhouse sets and figurines for me to photograph. Wasn't that going to be difficult to do, I asked. No, she said, my last two books were done that way. If you haven't seen her books, But Who Will Bell The Cat <
www.butwhowillbellthecats.com
> and The Cat Who Wouldn't Come Inside, <
www.comeinsidekitty.com
> you should check them out.
We did our first shoot in December, which comprised of most of the shots of Cynthia herself. I crossed off panels from the script as we worked. Then Cynthia began constructing the sets and our period characters. It took her some time to put together the prohibition speakeasy, a birth scene and a death scene, and her own childhood bedroom, among others. She also had to collect the various prop items; a bathtub still, gun, skunk, coffin, and many, many more. When I arrived at her Connecticut studio last week I was absolutely astounded by all she had wrought. But, don't take my word for it...
See it here -
http://activatecomix.com/104-24-1.comic
Comments welcome and appreciated, as always. Hope you enjoy it!
CulturePOP will be back in a few months!