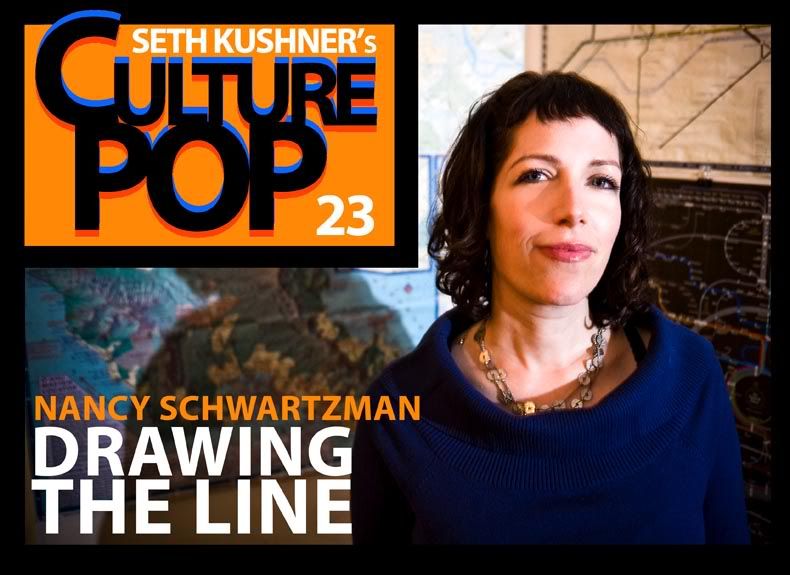 Today's new installment of CulturePOP Photocomix Profiles of Real-Life Characters looks at filmmaker/activist Nancy Schwartzman.
I met Nancy a decade ago when she was the creative director at
Heeb Magazine
, where she commissioned me to do such wacky culture jamming imagery as a DJ's hands spinning a piece of Motzah on a turntable, for the cover of the first issue. After a while Nancy left Heeb and began concentrating on her film,
The Line
. I remember asking her about it and learned it was about her personal experience of being raped and about "rape culture." From the film, Nancy started a campaign,
WhereIsYourLine.org
, about consent, sex, pleasure, and healthy boundaries, which has led to her speaking to young people at schools and college campuses. This piece is about how someone can turn something negative into a positive.
See it here -
http://activatecomix.com/104-23-1.comic
Nancy is currently hard at work on her next film, xoxosms, "a documentary about love in the 21st century." Check out the trailer and help support it a Kickstarter-
http://www.kickstarter.com/projects/931046546/xoxosms-a-documentary-about-love-in-the-21st-centu
Today's new Photocomix is the penultimate one of season-2. That's right, only one more left and that one will be on artist Cynthia Von Buhler and Cynthia and I have been working on it for months so it should be a doozy. Please check back in two weeks.
Comments welcome and appreciated, as always. Hope you enjoy it!