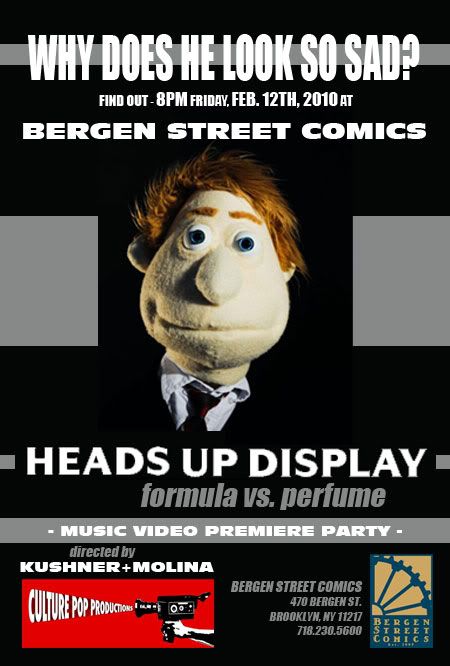 FOR IMMEDIATE RELEASE
Contact: Jonas Deschain
email:
booking@headsupdisplay.net
Heads Up Display Music Video Fuses Music, Comics and Muppets
Debuting Friday, February 12th, Brooklyn-based indie rock band Heads Up Display's FORMULA VS. PERFUME, the latest music video from the directing team Kushner + Molina of Culture Pop Productions (
www.culturepopproductions.com
). , features puppets designed and built by acclaimed cartoonist and graphic novelist Kevin Colden (
Fishtown, I Rule the Night
), and band frontman Josh Dillard (formerly of the Sesame Workshop). Co-director Seth Kushner is an award-winning photographer for such publications as
The New York Times, Newsweek, L'Uomo Vogue
and is also the co-author of the photo book,
The Brooklynites
.
Bergen Street Comics (
www.bergenstreetcomics.com
) is hosting a premiere party Friday, February 12th at 8PM. The band will perform a short acoustic set followed by a screening of the video.
Seth Kushner directed his first music video, GET IT TOGETHER by Maya Azucena, in early 2009. For his second directorial effort, JOHN HUGHES by Q*Ball, Kushner teamed with fellow photographer/filmmaker Carlos Molina, under the banner of Culture Pop Productions.
The team then produced and directed ON THE FRINGE WITH PAUL POPE, an interview-based documentary on the artist/comic book creator. They followed that with the music video HOW I PLEAD with hip-hop artist Rezen, and the webcomics documentary, THE ACT-I-VATE EXPERIENCE.
Heads Up Display are uncovering songs that had been long lost deep in the oceans of time. Three adventurers Josh, Steve and Kevin, in their mini-sub 'Abbey' skim the mid-Atlantic shelf for remnants of what had begun with such groups as the Wipers, the Pixies, the Promise Ring and Television. Their ongoing mission, to bring to light the sounds that made people sing out loud and dance as if 'Tomorrow' did not matter, continues to this day. Find out about their progress at venues in the metropolitan tri-state region at
www.headsupdisplay.net
'AS/IS is like a rift in the space time continuum where 1990s college rock is seeping through into 2009 and mingling with musicians brainwaves. Think Weezer before they started sucking. Or The Pixies if they had formed 15 years later.' Blake from Sugar Sours
'From lovesick teenaged punk, to drums akin to a battering ram, to some self-proclaimed "emo" female harmonies; Joshua, Steve, and Kevin of Heads Up Display have seen or done just about everything.'
-Drew Citron for Jezebel Music
Seth Kushner (
www.sethkushner.com
) is an award-winning photographer whose work has been featured in many publications and in exhibitions around the world. His first book, THE BROOKLYNITES was published by powerHouse Books in 2007. He is also the co-creator of the comics journalism site, Graphic NYC (
www.nycgraphicnovelists.com
).
Carlos Molina was born, raised and will most likely be buried in Brooklyn. Cultivating film and still images is how he spends the better part of his day. He is currently the Director of the photography program at Abraham Lincoln High School in Brooklyn, where, as student, he was first exposed to the potency of the visual medium.
Kevin Colden is the author of Eisner Award-nominated, Xeric award-winning graphic novel FISHTOWN. He is a veteran of the ACT-I-VATE and Chemistry Set webcomics collectives, and his work has been published by such notable publishers as IDW Publishing, Image Comics, Alternative Comics and Top Shelf Productions. He currently writes and draws I RULE THE NIGHT for Zuda (
www.zudacomics.com
) and is the drummer in HEADS UP DISPLAY.