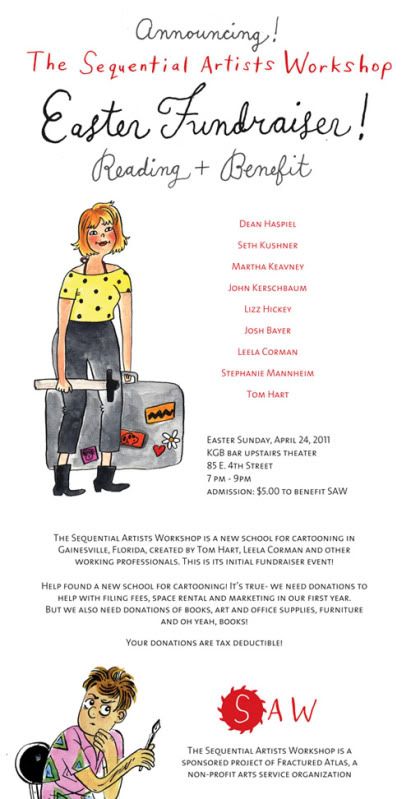 CulturePOP Photocomix is on hiatus at the moment, but there will be a live reading by two CP subjects reading my profiles of them at KGB Bar this Sunday as part of the Sequential Artists Workshop's Annual Fundraiser Reading & Benefit.
Designer John D'Aponte will be reading The Family 'Stache (
http://activatecomix.com/104-4.comic
) and Jennie Fiske will be reading Ukulele Dreams (
http://activatecomix.com/104-10.comic
). The images will be projected on a screen behind the readers. Additionally, lots of great cartoonists will be reading their work, including:
Dean Haspiel and Daniel J Kramer
John Kerschbaum
Lizz Hickey
Josh Bayer
Domitille Collardey
Leela Corman
Seth Kushner and readers
Sam Henderson
Leslie Stein
Martha Keavney
Stephanie Mannheim
Easter Sunday, April 24 · 7:00pm - 9:30pm
KGB Bar Upstairs Theater
85 E. 4th Street
New York, NY
More details here -
http://www.facebook.com/event.php?eid=144881678910836
Hope to see you!