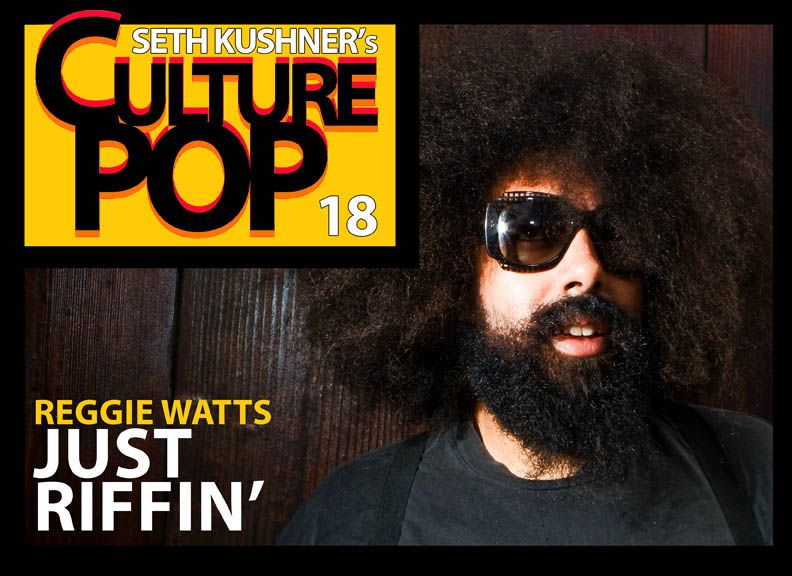 CulturePOP" Photocomix Profiles of Real-Life Characters is back today with an all new installment on comedian/musician Reggie Watts.
I recently spent an interesting day with Reggie Watts trolling around Williamsburg, Brooklyn and seeing first-hand how he comes up with his patented improvisational material. Seeing how Reggie operates off-stage gave me even more appreciation for Reggie the performer, and hopefully this piece will help to give viewers some insight into the mind of this unique talent.
See it here -
http://activatecomix.com/104-18-1.comic
This particular piece was somewhat experimental for me, in that I needed to come up with a way to merge Reggie's words and my photos in a way which would somehow portray his abilities, which is something clearly evident in video and much more difficult in still imagery. Dean Haspiel edited the piece with me, as always, and chimed in with some good suggestions. To finalize it though, I turned to Jeff Newelt, whose familiarity with Reggie made him the perfect person to push me to really "activate the energy" (his words!) of the piece and move in a very psychedelic direction. Jeff and Dean provided the one/two editing punch I needed to make this one fire on all cylinders!
Reggie was recently named by GQ Magazine as one of their Men of the Year, and in the accompanying tribute written by Conan O'Brien, Conan writes, "You couldn't invent a Reggie Watts if you wanted to." You know Conan means it because when he embarked on his comedy tour last spring, it was Reggie who he picked as his opening act.
Comments welcome and appreciated, as always. Hope you enjoy it!